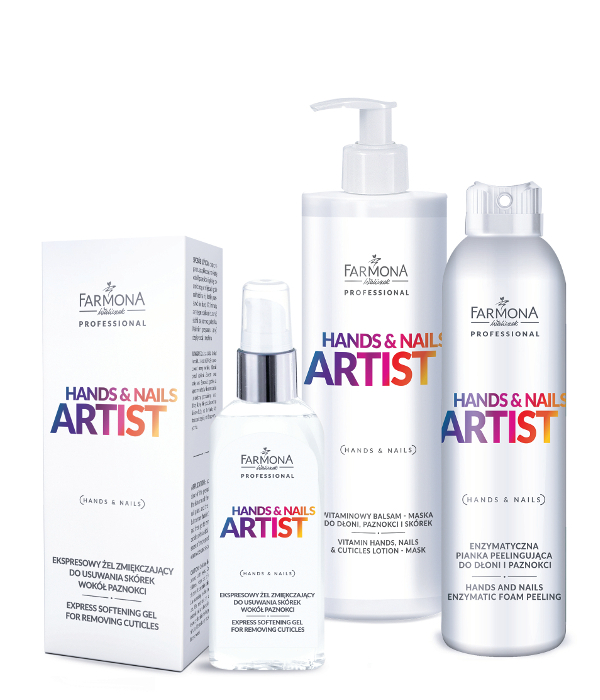 HANDS&NAILS ARTIST Professional manicure treatment
Treatments for hands and feet
Innovative line based on vitamins, enzymes and fruit acids, which combines complex care with perfect appearance of hands skin, nails and cuticle around them. The formulas of preparations have been created to combine perfectly with hands styling treatments, without changing their durability – traditional, hybrid, gel or titanium manicure. HANDS & NAILS ARTIST - that hands and nails would be the real masterpiece.
INDICATION:
- professional manicure treatment, dry, rough, overgrown, cracked cuticle around nails, brittle and fragile nails, nails damaged by styling treatments, dry and rough skin of hands.
EFFECTS:
- perfectly cleansed nail plate,
- smooth and manicured cuticles around the nails,
- smoothed and softened hand skin,
- regenerated, nourished and moisturized hands skin and cuticles around the nails,
- strengthened nails,
- perfect appearance of the skin of hands, nails and their surroundings.
ACTIVE INGREDIENTS:
 - CUTICLE REMOVER FORMULA – the composition of sodium hydroxide, four AHA acids - lactic, malic, glycolic, citric and salicylic acid express and effective softens cuticle around nails allowing for their easy pushing back and/or removal and cleaning the nail plate.
 - LIPOSOMAL COMPLEX OF VITAMINS A, C, E – nourishes, aids skin and nails recovery and protects them from harmful influence of external factors. Thanks to the liposomal carriers, the vitamins effectively overcome the epidermal barrier and penetrate into the deeper layers.
 - PAPAIN – papaya enzymes have a purifying effect, remove dead skin and stimulate regeneration processes of the skin. They improve its colour and condition.
 - HYALURONIC ACID – three-molecule hyaluronic acid acting with the triple strength, on the surface of skin, in its deeper layers and additionally increasing absorption of another active substances. Intensively moisturizes, regenerates the skin, improves elasticity and firmness.
 - NATURAL OILS – the combination of sweet almond oil and grape seed oil smoothes, makes supple, supports regeneration, deeply moisturizes and softens the skin and cuticle around nails. Intensively strengthens and improves the condition of the nail plate.
PREPARATIONS IN LINE:
- EXPRESS SOFTENING GEL FOR REMOVING CUTICLES – just after few seconds allows for effective removal of excessive cuticles, without drying them.
- HANDS AND NAILS ENZYMATIC FOAM PEELING – in 5 minutes restores smoothness of hands, nails and cuticles around them.
- VITAMIN HANDS, NAILS & CUTICLES LOTION – MASK – instantly regenerates the skin, strengthens the nail plate and nourishes cuticles around the nails.
Opis zabiegu
Przebieg zabiegu
COURSE OF TREATMENT:
Remove the nail polish or nail conditioner residues from nails and clean the skin of hands.
Apply a dose of Express softening gel on cuticles around nails and nail plate, in areas where the skin overlaps it.
Leave for 40 – 60 seconds, but not longer than 1 minute. The time of application should depend on the thickness of the cuticles around nails. Then remove gently the cuticles using a stick.
Wash excess of preparation thoroughly with warm water and soap.
Spread an even, covering layer of Enzymatic foam peeling on the skin of hands (also on the inside), nails and cuticles around them.
Leave the spreaded foam on the hands for about 5 minutes. After this time, wash using a warm, moist compress.
Move on to the next steps of manicure treatment.
Degrease the nail plate before nails styling (also when using nail conditioner).
At the end of the treatment, apply a small amount of Vitamin lotion – mask on the skin of hands and cuticles around nails, then massage gently and leave to absorb.
In the case of very dry skin and cuticles around nails or damaged and brittle nails, apply a thicker layer of Lotion, wrap with foil and leave for about 10 minutes. After this time, massage the excess of preparation into the skin.
Perfect appearance of the hands and effective nails regeneration already during express manicure.
Preparations from HANDS & NAILS ARTIST line can be combine with each manicure treatment performed in a beauty salon.
Preparaty stosowane przy zabiegu