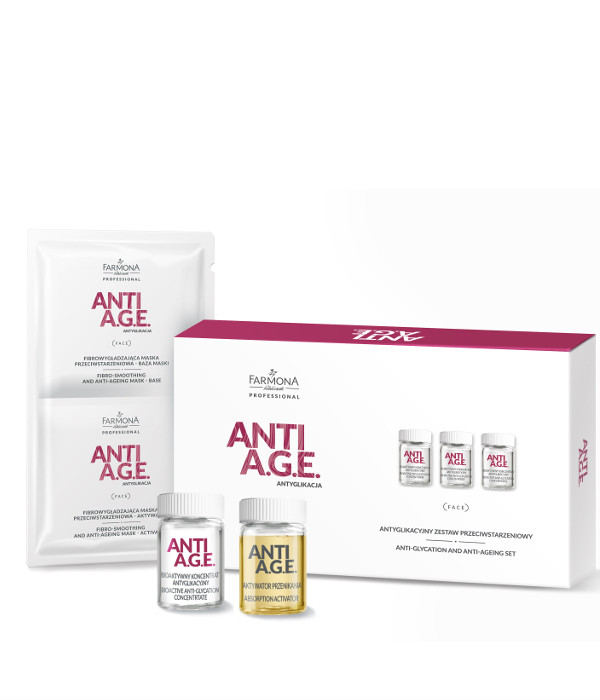 For cosmetic equipment
ANTI-GLYCATION AND ANTI-AGEING SET
pojemność:

10 x e 5ml | 0,17 fl.oz. , 10 x e 5ml / 0,17 fl.oz., 10 x e 20ml / 0,68 fl.oz. (2xe10ml/0,34 fl.oz.)

obszar:

face

rodzaj skóry:

any type of skin with changes related to skin aging processes

działanie:

improvement of skin's biochemical properties – increase in firmness and elasticity restored vitality

wiek:

all ages
Opis
Sposób użycia
Składniki
INDICATION:
all skin types with changes related to the skin ageing process – loss of firmness and elasticity, wrinkles. If there are no visible signs of skin ageing, the preparation may be used to maintain healthy and youthful skin appearance for longer.
EFFECTS:
PENETRATION ACTIVATOR
intense and deep skin hydration, skin softening, better permeability of the epidermal barrier, intensified penetration and operation of subsequently applied preparations and their enhanced effects.
BIO-ACTIVE ANTI-GLYCATION CONCENTRTATE
delay of skin ageing processes caused by glycation, stimulation of rebuilding and formation processes of support fibres, increased firmness and elasticity, liquidation of skin yellowing.
FIBRO-SMOOTHING AND ANTI-AGEING MASK MASK BASE + ACTIVATOR
improved bio-mechanical properties of the skin – enhanced elasticity and resilience, filling of fine lines and wrinkles, intense hydration, reduced symptoms of tiredness and stress.
EFFECTS of TREATMENT:
delay in skin-ageing effects caused by glycation processes
improvement of skin's biochemical properties – increase in firmness and elasticity
restored vitality, improved skin colour, visible rejuvenation
extension of youth and protection from glyco-related ageing
APPLICATION:
Apply the permeability activator on the treatment area, massage gently and leave to absorb for approx. 5 minutes.
Apply an even layer of the concentrate on skin, leave to absorb. To intensify the effect, the preparation may be applied with the use of needle-free mesotherapy or sonophoresis. 3. Mix the mask base and the activator in a bowl. Bubbles are the natural reaction when the two phases blend.
Apply the foam in an even layer on skin, avoiding the eyes and leave for approx. 20 minutes. After application of the mask, slight tingling and cooling sensation may be experienced.
Remove the mask with a spatula, and wipe any remnants with moist cotton pads.
ACTIVE INGREDIENTS:
PENETRATION ACTIVATOR: glycosaminoglycans, hyaluronic acid.
BIO-ACTIVE ANTI-GLYCATION CONCENTRTATE: PP vitamin, Idealift™, acai extract.
FIBRO-SMOOTHING AND ANTI-AGEING MASK MASK BASE + ACTIVATOR: PP vitamin, collagen and elastin activator, neo-retinol.
Inne produkty w serii