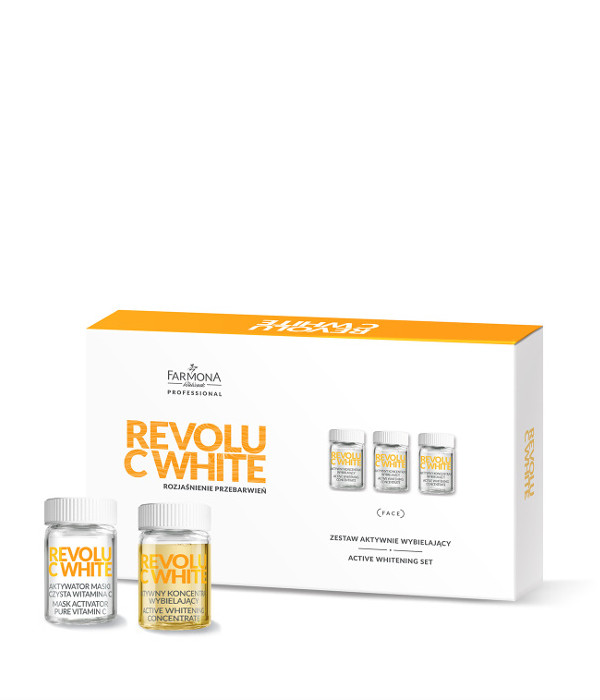 For cosmetic equipment
REVOLU C WHITE Active brightening complex
pojemność:

e 5 ml / 0,17 fl.oz. | e 2 g / 0,07 oz. | e 12 ml / 0,41 fl.oz.

obszar:

face

rodzaj skóry:

all types of skin with blemishes – hormonal, after sun, post-acne, old age...

działanie:

suppression of tyrosinase, reduction of melanin synthesis, lightening of blemishes and equalising skin colour

wiek:

all ages
Opis
Sposób użycia
Składniki
REVOLU C WHITE Active brightening complex
ACTIVE BRIGHTENING COMPLEX
Indication:
all types of skin with blemishes – hormonal, after sun, post-acne, old age, grey and tired skin with uneven colouring.
ACTIVE BRIGHTENING CONCENTRATE
Effects:
suppression of tyrosinase, reduction of melanin synthesis, lightening of blemishes and equalising skin colour, improvement of skin immunity to new pigment changes, brightening and adding lustre to skin.
MASK ACTIVATOR – CLEAN VITAMIN C
SKIN BRIGHTENING MASK - BASE
Effects of mask with activator:
suppression of tyrosinase, reduced melanin synthesis, reduction of blemishes, brightening of skin, stimulation of collagen and elastin synthesis, optimum hydration, regeneration, reduction of irritations and redness.
Application: apply the content of the vial on skin encompassed by the procedure, massage gently. To intensify the effect, the preparation may be applied via needle-free mesotherapy or ultrasounds. Mask activator – clean vitamin C: pour into a bowl with cream mask base. Mix well until the mixture is uniform. Apply on skin encompassed by the procedure, avoiding the eye area and leave for 15 minutes. Remove the mask with a spatula, wipe the skin with moist and warm compresses.
Active ingredients:
ACTIVE BRIGHTENING CONCENTRATE
vitamin C, MELASLOW™, Whitening Cellular Complex, Sepicalm™VG
MASK ACTIVATOR – CLEAN VITAMIN C, SKIN BRIGHTENING MASK - BASE
vitamin C, Hydromanil™, hyaluronic acid, Canola oil, collagen, panthenol, allantoin
Inne produkty w serii