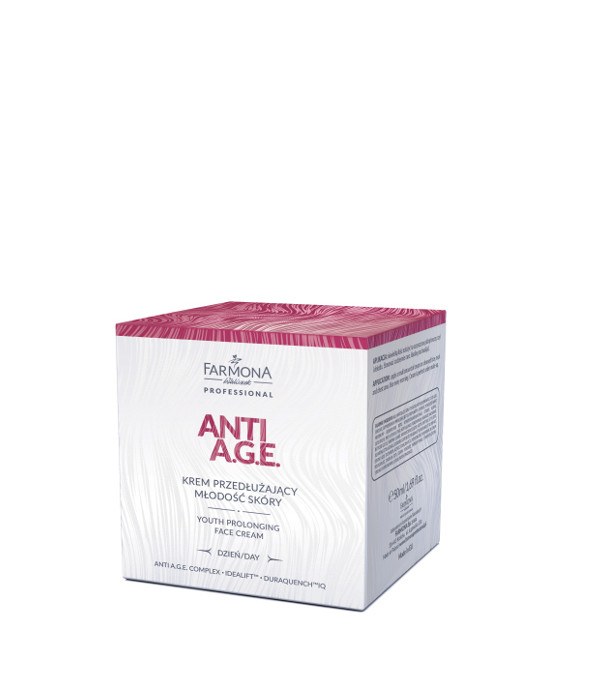 For professional home face care
ANTI A.G.E. GLYCATION youth extending cream
pojemność:

e 50 ml | 1,69 fl.oz.

obszar:

face

rodzaj skóry:

all types of mature skin

działanie:

anti-aging, soothing, moisturizing

wiek:
Opis
Sposób użycia
Składniki
Advanced day cream, thanks to the concentrated form of active ingredients, it ensures multi-directional effects, spectacularly reducing the effects of glycation of skin support fibres. Guarantees intense protection from glyco-related skin ageing and minimises the signs of the passing time.
TRIPLE EFFECTS:
 - ANTI-AGEING - slows down the formation process of advanced glycation end products (A.G.E.), counteracts degradation of collagen and elastin fibres, improves skin appearance and minimises the signs of internal skin ageing.
 - SMOOTHING - intensely smoothes the skin, visibly reduces the length and the depth of first wrinkles, ensures satin-like smoothness.
 - HYDRATING - guarantees multi-level, intelligent hydration of the skin which persists up to 72 hours, regulates loss of water from the skin in various temperatures and humidity.
Massage a small amount into the cleansed face, neck and cleavage, without forgetting the eye area. Apply daily for the night. The silky consistency of the serum allows for a short massage.
Active ingredients:
ANTI A.G.E. COMPLEX, IDEALIFT™, DURAQUENCH™IQ
Inne produkty w serii