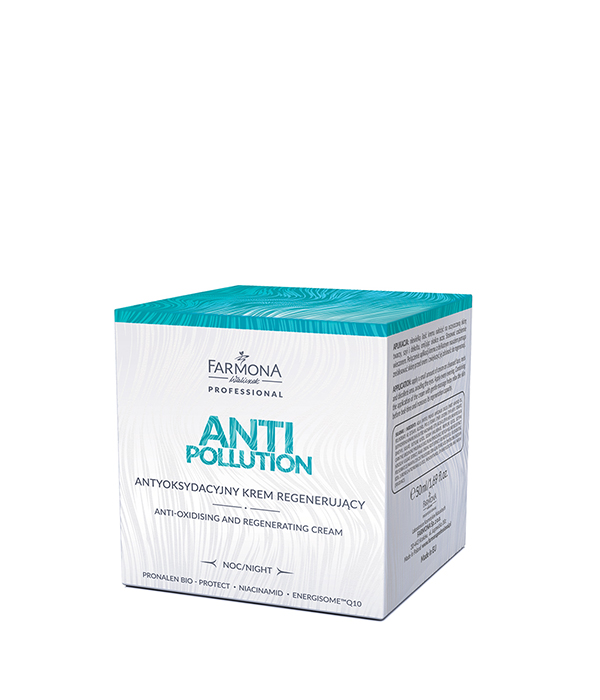 For professional home face care
ANTI POLLUTION anti-oxidising and regenerating cream
pojemność:

e50ml/1,69 fl.oz.

obszar:

face

rodzaj skóry:

all skin types

działanie:

controls formation of free radicals, reduces the effects of stress and tiredness

wiek:

all ages
Opis
Sposób użycia
Składniki
Advanced cream adjusted to the functioning of the skin during the night cycle in order to recreate the effects of regenerating sleep and to make the skin rested and radiant. Ideally responds to the needs of all skin types, in particular insufficiently oxygenated skin, grey and tired skin, exposed to environment pollution and UV radiation.
TRIPLE EFFECT:
ANTI-OXIDISING - multi-directionally combats oxidising: controls formation of free radicals, provides the cells with energy necessary for preventing damages and supports intra-cellular regeneration,
REGENERATING - decreases effects of unfavourable impact of the environment on skin, activates skin cells and stimulates skin auto-regeneration,
ANTI-STRESS - reduces the effects of stress and tiredness. Relaxes the skin and makes the skin look rested like after 8 hours of sleep.
Apply a small amount of cream on cleansed face, neck and décolleté area, avoiding the eyes. Apply every evening. Combining the application of the cream with gentle massage helps relax the skin before bed-time and increases its regeneration capacity.
ACTIVE INGREDIENTS:
PRONALEN BIO – PROTECT - complex of vegetal extracts protecting the skin from damages caused by toxic substances such as heavy metals, gases and UV radiation. Suppresses lipo-peroxidation and counteracts formation of free radicals;
NIACINAMIDE - vitamin B3, regulates skin regeneration processes, visibly improves skin structure and colour. Stimulates synthesis of AQP3, hyaluronic acid and collagen. Possesses anti-oxidising and immuno-stimulating propertieS;
ENERGISOME™Q10 - stimulates skin detoxification, provides cells with energy necessary for regeneration and counteracting damages by fighting negative effects of free radicals. Slows down skin ageing and accelerates biological regeneration of skin.
Inne produkty w serii