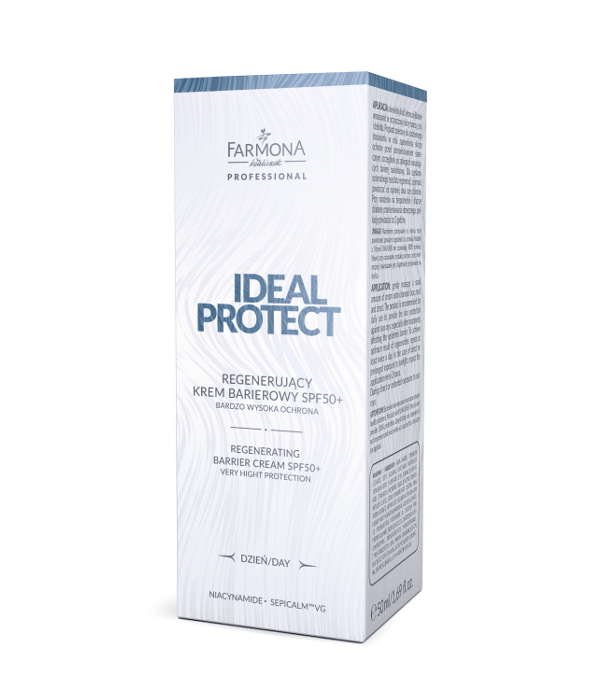 For professional home face care
IDEAL PROTECT Regenerating barrier cream high protection spf50+
pojemność:

e 50 ml | 1,69 fl.oz.

obszar:

face

rodzaj skóry:

all skin types

działanie:

stimulates natural epidermis regeneration system, strengthens natural skin barrier functions

wiek:
Opis
Sposób użycia
Składniki
Specialist regenerating and protecting cream that perfectly responds to the needs of all skin types, protecting the skin from sun rays and alleviating irritations. It forms a gentle regenerating film on the skin, protecting it from sun rays. Recommended for daily protection from UV radiation and after cosmetic treatments affecting the epidermal barrier or other treatments requiring photo-protection.
TRIPLE ACTION:
- PROTECTION -  provides very high protection from the harmful influence of UVA and UVB radiation – SPF50+. Prevents blemishes and skin irritations.
- REGENERATION - stimulates natural epidermis regeneration system, strengthens natural skin barrier functions. Effectively soothes irritations and reduces redness;
- ANTI-AGEING - prevents pre-mature ageing caused by excessive exposure to UV radiation.
APPLICATION: gently massage a small amount of cream onto cleansed face, neck and chest. The product is recommended for daily use to provide the skin protection against sun rays, especially after treatments affecting the epidermis barrier. To achieve optimum result of regeneration, repeat at least twice a day. In the case of direct or prolonged exposure to sunlight, repeat the application every 2 hours.
ATTENTION! Excessive sun exposure may cause a major health problems. Products with UVA/UVB filters do not provide 100% protection. Long-lasting sun exposure is not recommended even when sun protection products are applied.
POWER OF INNOVATIVE INGREDIENTS:
UV FILTERS 50+ -  breakthrough combination of filters absorbing and reflecting UV rays, guarantees very high protection (SPF50+) from skin damages and burns caused by sun rays.
SEPICALM™VG - lipo-amino acid combined with water lily extract provides comprehensive skin regeneration, excellently soothes irritations, restores balance and natural epidermal barrier functions.
NIACYNAMIDE -  reduces the harmful influence of environmental factors that accelerate skin ageing.
Inne produkty w serii