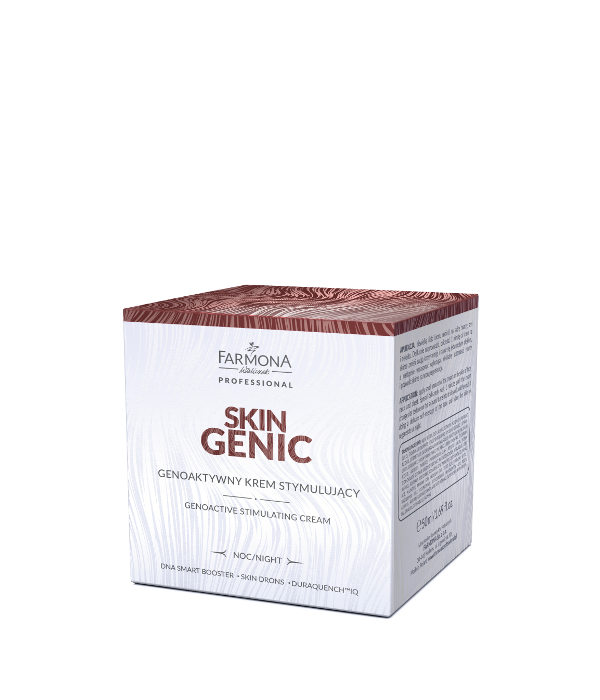 For professional home face care
SKIN GENIC Genoactive stimulating cream for a night
pojemność:

e 50 ml | 1,69 fl.oz.

obszar:

face

rodzaj skóry:

all skin types

działanie:

it supports the natural, 3 stage process of regeneration of the skin exposed to stress-inducing action of environmental factors and the ageing processes, activates the "youth genes" that prolong the life of cells

wiek:

all ages
Opis
Sposób użycia
Składniki
Advanced new generation preparation, inspired by epigenetics. The formula of a cream that turns into oil, combined with advanced ingredient. It activates night skin regeneration, stimulates the skin to prevention ageing process and helps to keep the youthful look for longer.
TRIPLE EFFECT:
STIMULATING – it stimulates synthesis and regeneration of structural proteins of the intercellular matrix.
ACCELERATING REGENERATION – it supports the natural, 3 stage process of regeneration of the skin exposed to stress-inducing action of environmental factors and the ageing processes – lifting, firming and regeneration.
SLOWING DOWN SKIN AGEING – it activates the "youth genes" that prolong the life of cells.
Apply small amount of the cream on the skin of your face, neck and chest. Spread delicately, wait 1 minute until the cream changes its texture on the skin and turns into a silky oil, and then rub into the skin doing a delicate self-massage of the face and allow the skin to regenerate at night.
Active ingredients:
DNA SMART BOOSTER, SKIN DRONES, DURAQUENCH™IQ
Inne produkty w serii