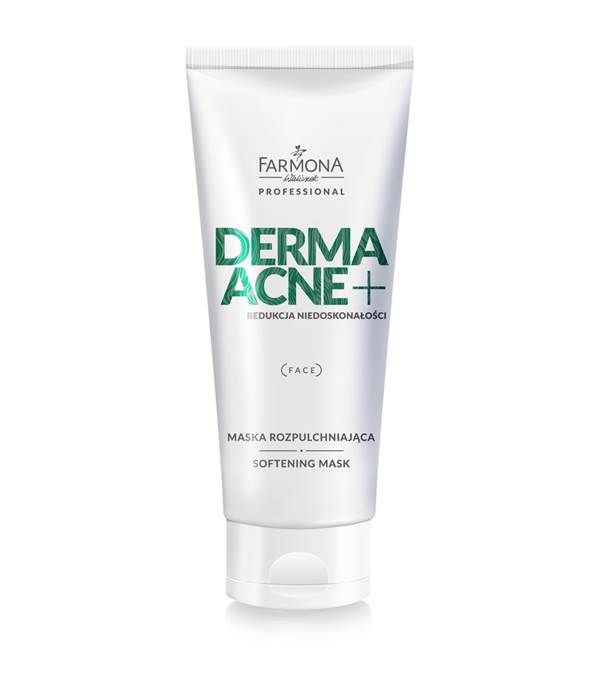 Facial masks
DERMAACNE
Skin softening mask
pojemność:

250 ml

obszar:

face

rodzaj skóry:

any

działanie:

relaxes, nourishes, regenerates

wiek:

without limits
Opis
Sposób użycia
Składniki
Indication: all types of complexion, for professional cleansing and  other cosmetic treatments.
Effect: quickly and efficiently relaxes and opens the pores, while softening the epidermis. Intensively nourishes. Substantially improves skin regeneration after cleansing treatments. Maintains a suitable level of hydration and protects the hydro-lipid layer of the skin.
Apply an even covering layer to the thoroughly cleansed skin of the face, neck, neckline and back. Massage in delicately. Leave for 10-15 minutes. If there are no contraindications, the mask can be applied before using a vapozone or warm compress. Rinse off with lukewarm water and tonic the skin.
Linseed extract - soothes and moisturises dry and irritated skin. Softens and slows the aging process.
Sweet almond oil
Vitamin F - restores the acid-water-lipid balance of the skin. It has oiling, nourishing and protective effects. It also ensures appropriate hydration of the skin.
Hypoallergenic lanolin - is perfectly absorbable through the skin, complements its lipid barrier and inhibits the loss of water, due to which it has softening and moisturising effects. Smoothes and reduces skin roughness. It is used to cleanse, smooth, oil and firm the skin.
Inulin - is a prebiotic, the natural hydrocarbon, which is not digested by human enzymes. It consists of glucose particle connected with a chain of fructose particles (from several to several dozen). Under the natural state it occurs in roots or bulbs of some plants, and it is most commonly acquired from endive. It has hydrating and alleviating effect. It facilitates maintaining the natural bacterial flora on the skin, which helps to keep its beautiful appearance.
Inne produkty w serii