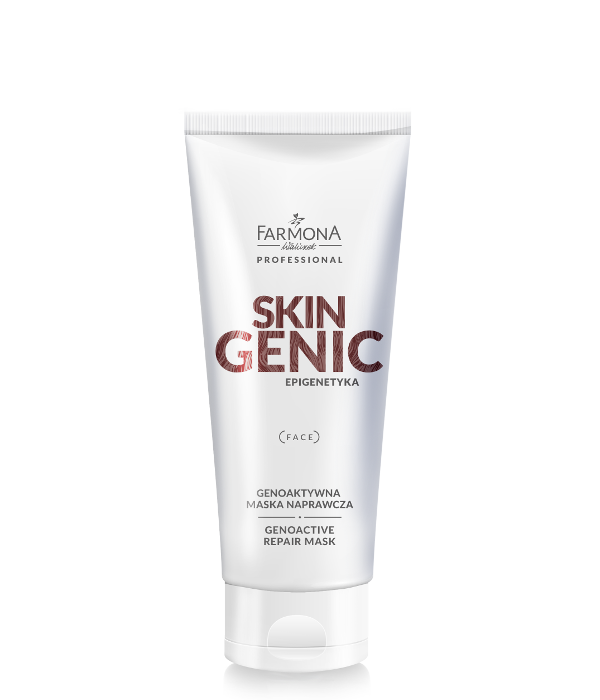 Facial masks
SKIN GENIC Genoactive repair mask
pojemność:

e 200ml | 6,76 fl.oz.

obszar:

face

rodzaj skóry:

all skin types

działanie:

protection against changes, caused by epigenetic skin ageing, stimulation of cell regeneration, acceleration of epidermis regeneration, smoothing out epidermal micro-thickening. Intensive moisturisation

wiek:

all ages
Opis
Sposób użycia
Składniki
Indication: any skin type, reduction of the signs of epigenetic ageing, skin that requires regeneration, damaged by external factors and with visible signs of ageing.
Effects: protection against changes, caused by epigenetic skin ageing, stimulation of cell regeneration, acceleration of epidermis regeneration, smoothing out epidermal
micro-thickening. Intensive moisturisation, improved skin flexibility, firmness and colour. The mask is an active base that permeates into deeper layers of the epidermis, thanks to the use of occlusive, foam activation mask and stimulates skin cells, enhancing youthful look.
Apply the mask evenly on cleansed skin. Leave for approx. 3 minutes and then proceed to the next stage of the treatment – apply foam mask COCOON MASK, which is necessary for optimal treatment effects.
Active ingredients:
DNA smart booster, skin drones, hydro 3d
Inne produkty w serii