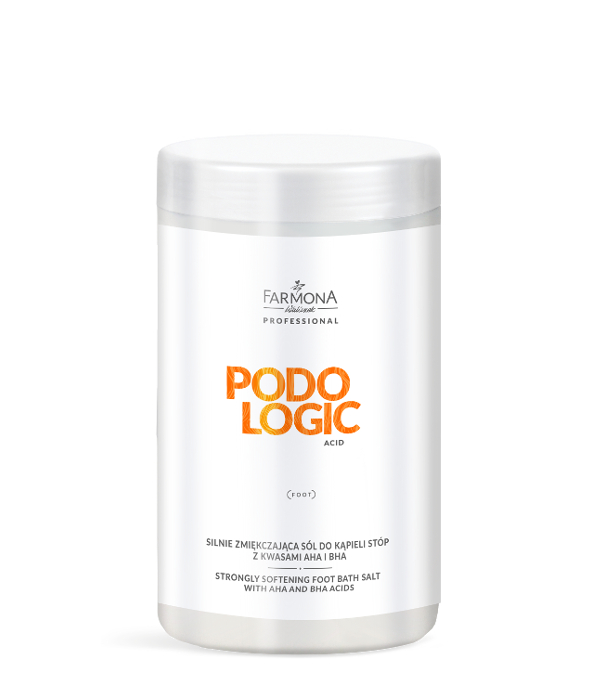 Podologic Acid
STRONGLY SOFTENING FOOT BATH SALT WITH AHA AND BHA ACIDS
pojemność:

e 1500 g | 52,91 fl. oz.

obszar:

feet

rodzaj skóry:

very dry, rough and damaged foot skin

działanie:

cleansing and refreshing the feet, loosening the connections between the cells of the epidermis for easier removal, softening the calloused skin

wiek:

all ages
Opis
Sposób użycia
Składniki
STRONGLY SOFTENING FOOT BATH SALT WITH AHA AND BHA ACIDS
Indication: foot bath before the podologic and pedicure treatment, especially for the hyperkeratosis, calloused, very dry, rough and damaged foot skin.
Effects: cleansing and refreshing the feet, loosening the connections between the cells of the epidermis for easier removal, softening the calloused skin, providing the skin with minerals and microelements, moisturizing and smoothing, restoring a healthy appearance to the feet.
CAUTION: The product contains salicylic acid. Do not apply onto irritated and damaged skin. Not recommended for children, pregnant women, people suffering from anaemia, Reye's syndrome, allergic to salicylates, suffering from diabetes, mycosis and eczema. Discontinue use it irritation, burning, itchiness and redness occurs.
3 scoops of the salt dissolve in 3 liters of warm water. It is recommended to take foot bath for 20 minutes.
Inne produkty w serii