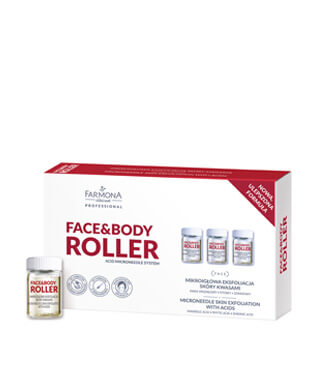 FACE ROLLER Microneedle skin exfoliation with acids
Treatments for face
This is an innovative restructuring and revitalising treatment that in one procedure combines two highly effective technique of skin stimulation – microneedle mesotherapy and acid exfoliation.
The rule of treatment is based on causing three controlled phase that occur in the skin: damage, exfoliation and regeneration. As a results of microneedle mesotherapy in the epidermis starts
to form micro-canals, through which acid molecules are transported. This process leads to faster overcoming the epidermis barrier and penetration of chemical peeling into deeper epidermis layer, giving faster and more effectively exfoliation effect. Combination of microneedle and acid make the formation of micro-traumas that stimulate the skin to two processes: exfoliation and regeneration.
In the effect, the epidermis rebuilds and in dermis are formed new collagen and elastin fibers; furrows and wrinkles become less visible as well as accumulated melanin is reduced.
RECOMMENDED NUMBER OF TREATMENTS: 4-6 treatments in series should be performed once in a week or once in two weeks. The number of treatments and their duration time should be selected individually to each case depending on: skin type, treatment aim and achieved results after first application.
DURATION OF TREATMENT TIME: 60 minutes
Opis zabiegu
Przebieg zabiegu
RECOMMENDED FOR: a visible wrinkles, lack of firmness and elasticity of the skin, photoaging, hyperpigmentation, excessive epidermis keratinization.
CONTRAINDICATIONS: sun exposure up to 2 weeks before and after treatment, skin irritations and inflammations, allergies, allergies caused by influence of different ingredients, active cold sore, numerous signs of discolorations, capillary skin, acne rosacea, tendency to cicatrisation, pregnancy, breast-feeding, oral retinoid therapy to 6 months back, severe forms of acne, skin diseases, (atopic dermatitis, phlegmonous acne, psoriasis, eczema), autoimmune diseases, surgeries performing in the skin area up to 2 months before treatment.
THE RESULTS*:
visibly improvement condition and structure of the skin,
smoothed surface, increased skin density, wrinkles reduction,
accelerated skin revival,
visibly lightened discolorations, evened skin tone,
gradually and deeply cleansing the skin,
restoration of youthful and fresh appearance.
* effects approved after 5 series of the treatments with derma roller usage. The effects also depend on skin condition.
ACTIVE INGREDIENTS:
ALMOND ACID – is qualified to alpha hydroxy acids; good tolerated by sensitive skin. It relaxes bonds that connect cells of dermal keratinization, accelerates natural exfoliation process, stimulates regeneration of deeper layers. It also activates fibroblasts in the dermis, increases synthesis of collagen and elastin as well as inhibits melanin production and possesses depigmentation properties.
SHIKIMIC ACID – an organic compound qualified to group of alpha hydroxy acids. It has wide and complex properties, as: removes dead skin cells, increases hydration, improves firmness and elasticity of the skin, regenerates the skin with photo-damages and discolorations due to sunburn. In comparison to most acids, shikimic acid is very effective, moreover it possesses a slight irritation properties.
PHYTIC ACID – a natural organic compound, qualified to group of gentle exfoliations. It has
anti-oxidants and chelating properties and facilitates removal from organisms excessive toxic heavy metal, thanks to that, it prevents to generate free radicals. Phytic acid is an effective ingredient in anti-aging and reducing discolorations treatments.
PRODUCTS FOR TREATMENT:
- PURE ICON Two-phase make-up remover
- PURE ICON Facial make up remover milk
- PURE ICON Soothing facial toner
- FACE ROLLER Microneedle skin exfoliation with acids
- IDEAL PROTECT Regenerating and soothing mask
- Cream with UV filters SPF 30 (REVOLU C WHITE Protective cream SPF 30)
RECOMMENDATION BEFORE TREATMENT:
- before the procedure, conduct a precise interview with the customer,
- before using the derma roller make sure to take a training course that will demonstrate how to perform microneedling on the skin,
- recommended length of roller needles: 0,3 – 0,5 mm.
THE PROCESS OF TREATMENT:
Remove make-up precisely from eyes and mouth using Two-phase make-up remover. Afterwards, clean the face, neck and chest with Facial make-up remover and then tone your skin using Soothing facial toner. Dry your skin.
Before treatment, put a protective gloves on your hands.
Disinfect the surface of the treated skin with disinfecting and degreasing product. Start microneedling the skin with derma roller according to work technique with roller with needles length from 0,3 to 0,5 mm, depending on type and condition of the skin.
The basic work technique with derma roller: Begin microneedling from forehead, then roll your cheeks, nose, chin, neck and chest. One hand tight your skin and roll it in four directions – vertically, horizontally, diagonally to the right and left, adjusting the force of pressure to individual customer sensations. Repeat each movement 4 times. All the time observe reaction on the skin. During the treatment, swelling and redness may occur, which depend on individual sensitivity and type of the skin – these reactions can keep up to several hours.
After microneedling process, disinfect your skin thoroughly. Apply the product onto treated skin and massage it. Avoid contact with eyes. All the time observe reactions on your skin; if necessary wash off the product with water a few times. After applied the concentrate onto skin, it may arise the sensation of smarting and tingling, whose intensiveness and duration may depend on individual sensitivity and type of the skin. Leave it to absorb.
After product is fully absorbed, apply onto your skin Regenerating and soothing mask from IDEAL PROTECT line. Leave it for 20 – 30 minutes. In case strongly reddened skin, gently remove the excessive of mask with dry cotton pad and gently massage the residue into the skin.
At the end of treatment, apply onto your skin Cream with UV filters SPF 30.
REACTIONS OF THE SKIN DURING AND AFTER TREATMENT: during the treatment, may occur the sensation of smarting, tingling, swelling and redness. A gentle process of exfoliation may appear 1-2 days after treatment and may last up to 2 days. Intensiveness and duration of these sensations depend on individually sensitiveness and skin type.
RECOMMENDATION AFTER TREATMENT: up to 12 hours after treatment with derma roller usage, avoid: alcohol, coffee, piquant spices, do not put on make-up. Up to 24 hours after treatment, do not use a saunas and swimming pools. Up to 2 weeks after treatment, avoid sun exposure as well as protect your skin against sunlight influence.
Preparaty stosowane przy zabiegu