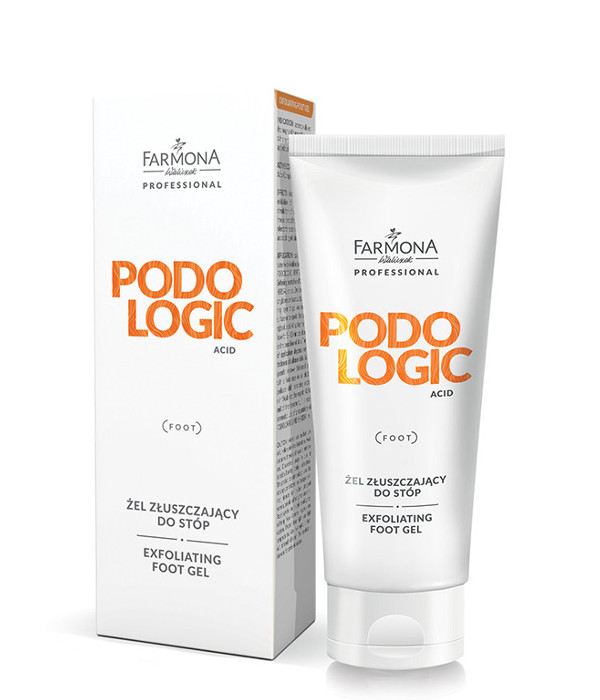 PODOLOGIC ACID Exfoliating treatment for severely callused feet
Treatments for hands and feet
Specialist podologic treatment which are based on fruit acids. Guarantees performance of professional pedicure and excellent results in a very short time.
Opis zabiegu
Przebieg zabiegu
INDICATION: severely callused, dry, rough and damaged foot skin, with a tendency for corns and calluses.
CONTRAINDICATIONS: the PODOLOGIC ACID exfoliating foot gel applied during the treatment contains salicylic acid and should not be used on irritated or damaged skin, as well as by children, pregnant women, people with anaemia, Reye's syndrome, allergic to salicylates, suffering from diabetes, mycosis, eczema.
ACTIVE INGREDIENTS:
PEDI – PRO ACIDS COMPLEX: complex of fruit acids  - glycolic, lactic, citric, malic and salicylic. The complex operates deep inside the epidermis, dissolving callused skin and, at the same time, hindering the process of excessive callusing and skin dryness. Efficiently softens excessive calluses, enables quick and easy removal of thickened and rough skin.
EFFECTS VISIBLE AFTER TREATMENT: intense softening and exfoliation of callused skin, stimulation of skin regeneration, intense smoothing, decreased tendency for excessive skin callusing and cracking.
PREPARATIONS FOR TREATMENT:
- PODOLOGIC ACID Softening foot bath salt with AHA and BHA acids
- PODOLOGIC ACID Exfoliating foot gel,
- PODOLOGIC ACID Progressive cream-foot softening mask
COURSE OF TREATMENT:
Prepare foot bath with the use of PODOLOGIC FITNESS Antibacterial foot bath salt with silver ions or PODOLOGIC HERBAL Softening foot bath pearls.
Dry the skin.
Protect hands with gloves.
Apply a cover layer of Exfoliating gel on entire feet soles or only on places with severely callused skin. Wrap the feet in foil and leave for 5 – 10 minutes, depending on the condition of skin. The time of application should depend on the thickness of callused skin.
Remove thickened skin with pedicure rasp or electric foot file, removing excess skin.
Wash feet thoroughly.
At the end of the treatment, massage PODOLOGIC LIPID SYSTEM Cream patch on calluses on feet or PODOLOGIC LIPID SYSTEM Hypoallergenic ointment of cracked feet.
Preparaty stosowane przy zabiegu